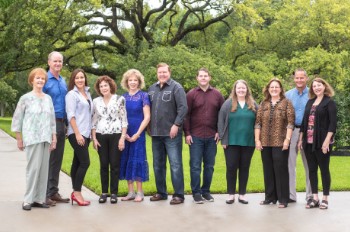 Our history begins in 1956 when Paul O'Farrell opened Friendswood's first realty office, originally known as Friendswood Realty. Shortly thereafter, Al O'Farrell (Paul's brother) joined the company, and the name was subsequently changed to O'Farrell Realty. The Friendswood area began to quickly grow with the emergence of NASA in 1965. Through the 60's and 70's, Al and Paul kept up with Friendswood's new economic boom through developments including Imperial Estates I & II, West Friendswood, Wedgewood Village, and Windsong. It was after the success of land sales in Windsong that Paul decided to move further out to the country and sold his interest in O'Farrell Realty to Al as part of the move.
O'Farrell Realty's prominence in Friendswood and the entire Bay Area continued to flourish, both in residential and commercial real estate. As the area continued to grow, Al continued to be a part of Friendswood's developments including Cowards Creek, Pilgrims Point, The Park, Fieldcreek Forest, Carmel Village, Mission Estates, and more. At this same time, Al also expanded his business in custom home construction where he built a solid reputation of quality construction and fine crafsmanship.
Through the years O'Farrell Realty has continued their leadership throughout the Bay Area real estate market, and they are honored to be recognized as "Friendswood's Longest Standing Business". The company has stood the test of time, and O'Farrell Realty has worked hard to earn and maintain respect throughout the community for its commitment to honesty, integrity, and excellent reputation. While we honor our past and the solid foundation that Al and Paul laid our for us, we also embrace the future and are dedicated to staying true to the values upon which they built O'Farrell Realty. Come see for yourself why O'Farrell Realty continues to be "Friendswood's Trusted Name In Real Estate Since 1956".