CREATING YOUR CAT'S DREAM HOME
by Bunny Bennett**
Congratulations, you have found your dream home and, as you prepare to move, you realize that the home might not have a great area for your beloved family cat. In this blog, you will find some great ideas for turning your dream home into your kitty's dream home.
Your feline companions require a litter box, food, water, and the devotion of their humans, but why not give them a dream home as well. Cats love to explore and by nature they like to be in high places. Designate a room in your home as your kitty's sanctuary. Start by attaching shelves and boxes to the walls, stagger the shelves and boxes from high to low. Be sure they are anchored into the wall to prevent damage to your sheetrock. This does not have to be an expensive project; check with your local lumber store or online for many great prefab ideas. You can paint the shelves, add toys or ropes… just let your imagination run wild.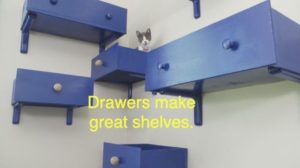 Old dresser drawers make great shelves.
Tile is a must in your pet's room. This provides for easy cleanup, helps prevent odor and pests. Litter boxes can be unsightly, but if you put it in a small cabinet, you can make it a part of the decor. Go to your local lumber liquidator or resale shop and find a single cabinet with doors. Next, you will want to cut an opening in the door large enough for your cat to crawl through, put the litter box inside, and add a latch to the door to keep it closed until you are ready to clean. Cabinet litter boxes can also be found at many online pet retailers.
One really unique idea is to find pet brushes and attach them to the wall. This gives your cat a great place to scratch and helps with shedding. Cats like fresh water, and a good labor-saving device is the pet water fountains. They filter the water and do not require multiple refills during the day.
If your cat likes to be outside but you're concerned for their safety, you might want to build them a Cattio. If your kitty sanctuary has a window, attach the Cattio to the house and open the window. This will provide them with safe access to the outside. There are some cost-effective prefab options online, or build your own.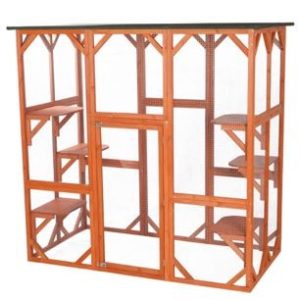 Cattio-prefab option available at multiple online retailers.
By creating this one-of-a-kind sanctuary for your cat, you will both feel like you have found your dream home.
**Bunny Bennett – O'Farrell Realty Sales Associate and REALTOR ®
Email: bunny@ofarrellrealty.com
Phone: 281-357-7000